Community pages are adding value to real estate businesses by reaching potential clients before they are ready to buy. Every time a potential client thinks about making a big move, the first place they turn to is the internet. Homebuyers want to know everything about where they are moving and if it will be a good fit. Questions about crime stats, school districts, commutes, cost of living, and what their new life will look like immediately spring to mind. Instead of waiting until homebuyers are actively looking at properties, why not reach them at this first step of their purchasing journey? This apprehensive, research stage in the buying journey is the perfect time to build a trusting relationship with future clients through community pages.
Community pages are one of the best ways to draw potential clients in and start engaging with them. Before a homebuyer is even actively searching for a realtor, agents have a chance to build a connection with community pages. Community pages (or neighborhood pages) are web pages that specifically focus on different areas or neighborhoods that a Realtor specializes in. Instead of showing listings, it is a page that showcases everything from local festivals, to school district ratings, to the best restaurants in town. Think of it as a window into a neighborhood, kind of like Nextdoor.
Great Content for Community Pages Include: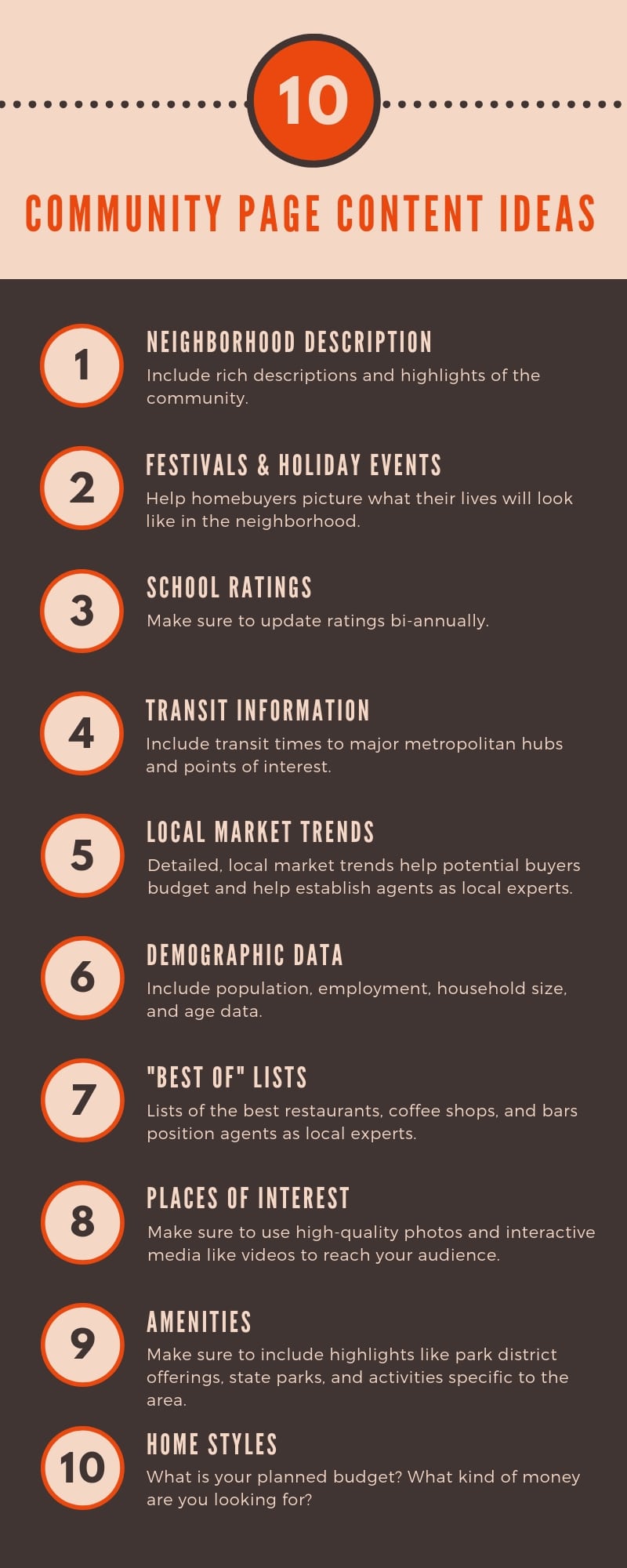 Other ideas include local history, community awards, charity events, feel-good stories, and police and emergency responder information. Whether you are a real estate veteran or just starting out, these pages can easily add value to your business. Community pages work well for generating real estate leads for a number of reasons.
Relationships
Take a minute and think of the most boring website you have visited in the past week. Was it static? Was it just listing out information? Unfortunately, most Realtors end up creating stagnant websites that offer very little besides contact information. Community pages are great because they are interactive, they invite feedback, and most importantly, they build relationships. These types of pages are the ones that potential clients will visit, again and again, becoming part of your brand audience. When building a community page, think about how to make it as interactive as possible.
Local Authority
Creating interactive, community pages positions Realtors as local authority figures. Homebuyers want assurance that their agent knows the ins and outs of their desired location. A community page is the best place to showcase both neighborhoods and your local expertise. This is the place to build trust, to let potential clients see that you know everything happening in their desired area and that you are going to use that knowledge to find them the perfect home.
Even the way that agents display listings on community pages can show off their neighborhood knowledge. Services like Buying Buddy create neighborhood pages that have unique searches like "homes with mountains views" or display listings by subdivision.  Whether it's the best place to get a cup of coffee or the stats on the current buying market, your community page is the place to position yourself as a local authority. Big companies like Zillow cannot compete with the value agents offer as local experts. They are so big that they don't have the intimate knowledge of an area that agents do. Community pages show off that value, too.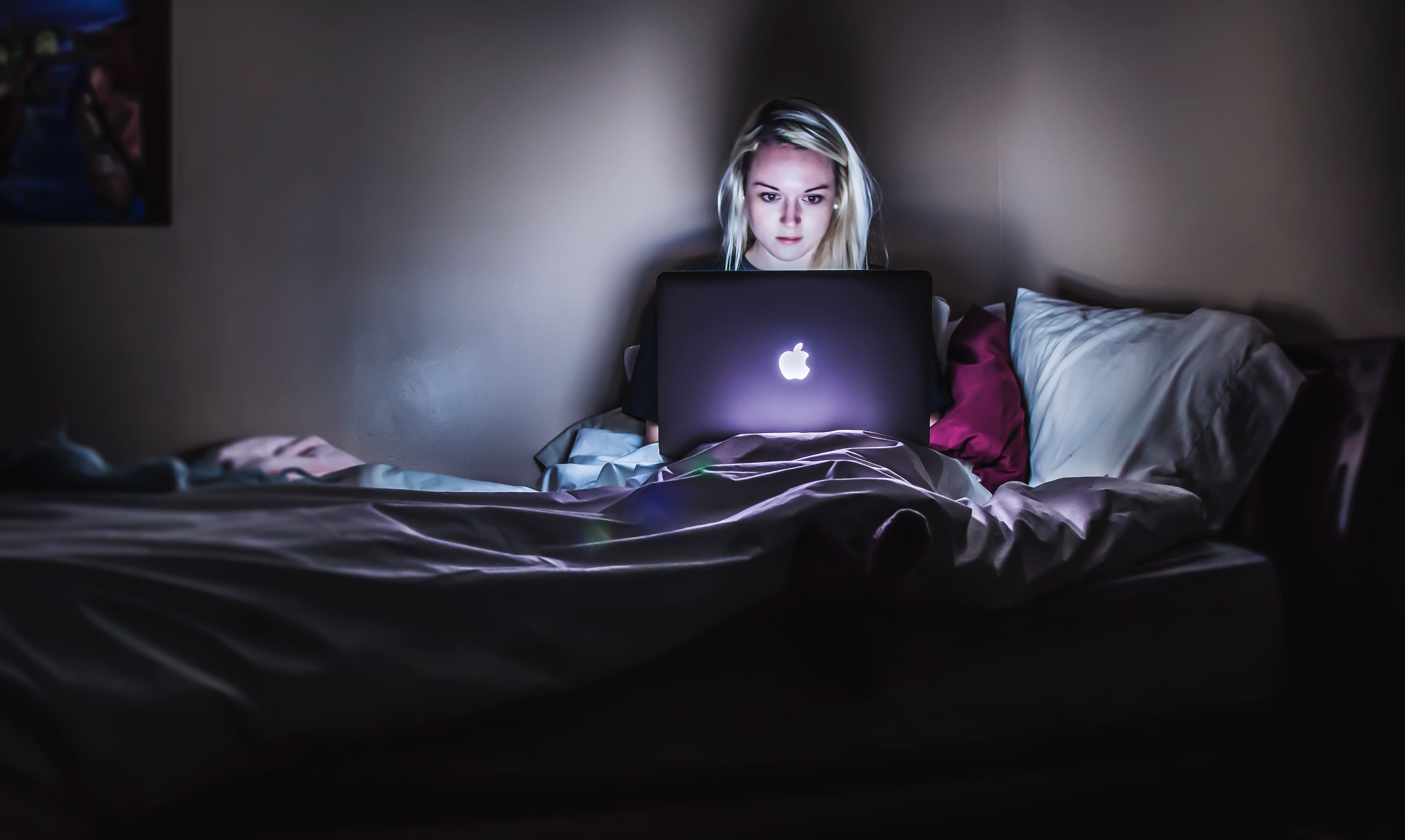 First Point of Contact
Future homebuyers will research a potential area before committing to a move. This research step usually occurs in the earliest stages of the homebuying process. A lot of Googling happens before a potential client knows that they will definitely need a Realtor. Checking out resources like Lifehacker's article on this stage of the homebuying journey can help agents get an idea of the type of internet research potential clients are doing. By utilizing this information and using it, a community page can snag a potential client's attention and funnel them directly to an agent. By entering into the homebuyer's decision-making process at the earliest stages, agents can bypass their competition. When a moving decision is finally made, if the agent has already made a connection, the client is theirs.
SEO rankings
It's no secret that SEO plays a big part in online business efforts. By filling community pages with relevant content, interactive media, and neighborhood related keywords, websites get ranked higher. Google wants to find the most helpful information for its users. It seems like a no-brainer, but by actually providing useful, engaging content about neighborhoods, community pages can help you jump to the top of the rankings list. Page views will soar when agents focus on providing useful information.
Build Rapport
Community pages are great for people who already live in your area, too. These pages should also give insight to future sellers/buyers about market trends, your engagement with the community, and your ability to be a credible source. Community pages are a place to build rapport with the people who already live in the neighborhood. When they move across town, have a relative or friend move nearby, or decide to invest, your name will be the first that comes to mind.
All great community pages feature the same three keys; they are:
Interesting
Informative
Interactive
Interesting content will hold your leads' attention; "best of" lists are a great example. Informative content includes neighbor data that is accurate and useful. And interactive content is anything that allows potential clients to get involved. Think about ways you can get your audience involved: have them vote on the best coffee shop in town, allow commenting on your videos, reach out and ask questions. If all three of these elements are combined, agents can easily form a lasting relationship with future clients before they even know they want a Realtor.
Community pages can boost the SEO of an entire real estate website, generating web leads. These pages also position agents as local authorities while building rapport with the community. Even if the thought of web design causes your stomach to turn, it is totally worth it. There are even services, like Blue Fire Sites, that specializes in cost-effective, real estate web design with community pages. Utilizing community pages can lend strength and generate leads for any real estate business.
For information on how to capture the leads visiting your website, consider an integrated IDX/CRM system.