Neighborhood real estate pages are one of the most effective real estate marketing strategies. These webpages drive up SEO, position real estate agents as local experts, and catch niche leads that large listing sites miss. Learn how to build the best hyper local pages on your real estate website and start capturing leads. Plus, check out 10 stellar examples of neighborhood real estate pages.
Why Neighborhood Real Estate Pages Are an Effective Marketing Strategy
SEO: hyper local neighborhood pages are a fantastic tool for increasing an agent's online visibility. These pages are great for connecting agents with leads looking specifically in their area.
Local Expertise: Neighborhood real estate pages are also great for positioning agents as real estate experts in their area. A well built hyper local webpage should establish an agent's credibility and expertise.
Capture Niche Leads: Neighborhood real estate pages that utilize detailed information about specific areas and offer in depth information about communities draw in buyers. These pages catch niche leads that Zillow and other large sites don't cater to. These niche leads are often further along in their home search and are ready to connect to an agent.
How to Build the Most Effective Neighborhood Real Estate Pages:
1. Use Lead Capture with Integrated IDX
Neighborhood real estate web pages are one of the most effective real estate marketing strategies. But it doesn't matter how many leads an agent gets to visit their website if they are not capturing their leads' contact information.
Integrated IDX forms a bond between leads and a real estate agent. On neighborhood real estate pages, leads can be prompted to sign up for listing alerts. Leads will then be sent emails or text message alerts every time a new listing in that neighborhood goes on the market. This drives leads back to the agent's website until the leads are ready to see listings with the agent in person.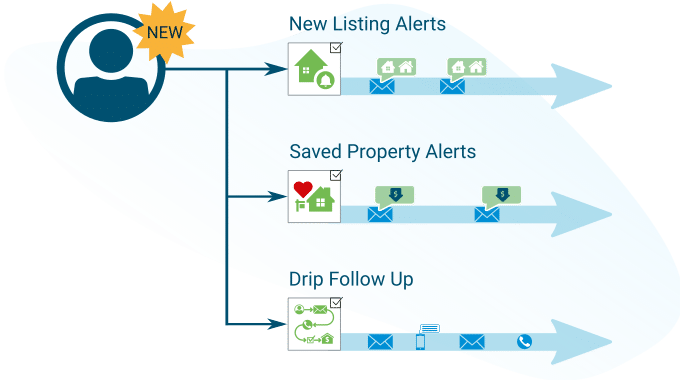 2. Choose Effective Neighborhood Titles and Terms
After choosing which neighborhoods you want to focus on, it is important to do SEO research. Knowing how people search for your neighborhood areas is critically important in building your page. Do not skip this step. Using tools like SEMRush, Google Trends, Keyword Sh!tter, or Keywords Everywhere allow agents to check how people are searching for specific neighborhoods.
Example:
If one of my hyper local pages focused on the Wash Park neighborhood in Denver, CO, I would enter "Wash Park Colorado" into any of the keyword suggestion tools mentioned above, and check how people were searching for my neighborhood.
I can see people refer to my neighborhood as "Wash Park", "Washington Park", "Wash Park Area", and "Wash Park Denver." I would include a mix of these terms in my page titles, subheadings, alt text, and meta descriptions.
3. Create a Neighborhood Description
Your neighborhood page should include an overview of the area. This description should paint a picture of what it's like to live in the neighborhood. Include information on when the homes were built, local neighborhood events, information about schools, transit information, and highlights of the area.
4. Show off Beautiful Listings
Every hyper local community page should show off the best, current listings for that area. Using integrated IDX allows agents to show off current listings specific to the neighborhood. Lead capture allows leads to get up-to-date neighborhood listings via text message or email.
5. Cost of Living
One of the top questions leads will have is how much it costs to live in a community, using comps and real-time data, provided a ballpark overview of how much homes average in that neighborhood, what the median household income is, property tax information, and a mortgage calculator.
6. Integrate Video
It is no secret that Google and other search engines favor video content. In fact, video receives 400% more engagement than other real estate marketing medium. Consider creating your own video tour of the neighborhood. If there is a local festival or community event that happens regularly, consider sharing it with buyers online.
Another option is to embed video that has been created by the city or neighborhood, already. Just remember to give credit to your sources.
7. Education Highlights
Buyers will also be interested in education options. Be sure to share information about the school district, charter schools, and private school options. Include information on school ratings and achievements. Include information about the highlights of each school from sports, to extracurriculars, and academic achievements. Links should be included for each district and school.
8. Recreation
The goal of hyper local pages is to paint a picture of what life will look like for a buyer in that neighborhood. Highlighting how they will play and have fun should be a key highlight. Showing off local state parks, trails, amusement parks, museums, zoos, aquariums, nature preserves, and park districts all help paint a picture of what life will look like.
9. Commuter Information
Include an area map with information on commute times to and from the nearest metropolitan hubs. Including "walk scores" for the neighborhood is also a huge plus.
10. Demographics
Information about the demographics of an area is a huge plus. Include information about the employment rate, the average household size, the median age, etc.
11. Create a List of Links
Creating a list of backlinks is important for offering valuable resources to page visitors and for driving up the SEO of your hyper local page. Consider adding links to the local school district, local government pages, police/fire departments, park district, country clubs, shopping district, HOA, or community event webpages.
12. CTA: Call-to-Action
Lastly, your community page should include a call-to-action to contact you to schedule a showing. Your contact information for text, mobile, and email should all be clearly displayed on the page.
Neighborhood Real Estate Web Pages
Neighborhood real estate web pages are great for driving up SEO, positioning real estate agents as local experts, and for attracting niche buyers. The most effective neighborhood real estate pages offer a wealth of information on a community, beautiful listings, and lead capture with integrated with IDX.
If you need help setting up your own hyper local neighborhood pages, contact our team. We are always happy to help!
IDX is Marketing Magic Next post