Jefferson Lewis IDX / CRM Plugin and IDX Websites
The UltimateIDX™ is an authorized Jefferson Lewis IDX RETS vendor, and has been successfully used by independant Agents and Real Estate Teams to capture thousands of real estate leads resulting in multi-millions of dollars in closed NY real estate sales.
Powerful Customizable IDX and CRM
All-in-one IDX, Lead Capture and CRM to help you win more leads and close more business.
With integrated IDX for Marketing & Lead Capture, and Lead & Client Management,
integrated seamlessly to your website, wherever it is hosted and whatever technology you use.
Works With Any Website
Our IDX / CRM Plugin integrates to any website. Or, we can help with complete IDX websites.
Flexible IDX Integration
Add to your site as YOU wish; Customize presentations and searches; Slice-and-dice MLS data any way you want.
Over 50 Special MLS Fields
Professional full-service search and marketing tools for you and your target market.
Fully Integrated CRM
Manage all your leads in the context of their home search activity and interests – and convert more!
Property Alerts
Comprehensive search alerts are always bringing leads back to you and your website.
Single Integrated Solution
From IDX to Mapping and SEO, to Drip Campaigns, Property Alerts and Team Management – it's all included.
Use Jefferson Lewis with Ultimate IDX and create multiple presentations and landing pages with area listings, as well as custom IDX mapping. Our Wizard tools make it easy to display any properties anyway you want on any number of pages!
IDX Solution Overview for Jefferson Lewis
Responsive, Beautiful Showcase IDX: YES - See the demo

IDX Search and Display MLS Properties
Interactive Map with Polygon Area Search: Included
Lead Capture Built-in
Modern Mobile Responsive (desktop, tablet, mobile):

IDX Websites: YES - Real Estate WordPress IDX websites
IDX Plugin available:
For WordPress: YES Learn More
For HTML, Sqarespace, Joomla, PHP, Weebly and more: YES Learn More
Complete CRM / Lead Management Integrated: YES Learn More
Official Jefferson-Lewis Board of Realtors website: Go to website
SEO Friendly and Indexable Listings: WordPress and PHP
ULTIMATE IDX Service for Jefferson Lewis
Your Data Feed: UltimateIDX is an approved IDX RETS vendor for Jefferson-Lewis Board of Realtors.
Jefferson-Lewis Board of Realtors is being integrated right now and will be available within a few weeks!
Availability: only with Broker approval.
Estimated time for Jefferson Lewis Feed Approval: 2 Business Days after submission.
Passthrough and MLS Fees: There are no IDX passthrough fees charged by your MLS
Rules and Restrictions: All Real Estate Licensing laws must be strictly adhered to. The term "MLS" is restricted from use. IDX logo and IDX disclaimer must be displayed on all listings as well as the listing office. After a compliance review, search and listing pages may not be changed unless approved by Jefferson-Lewis Board of Realtors.
Why Consider UltimateIDX - the Ultimate IDX Solution!
We have been developing and evolving our IDX CRM solution for over 12 years. The end result is a single IDX CRM solution that is simple and easy to add to any website, but without compromising on function.
For WordPress, it's easy to upload a regular WordPress plugin ZIP file and off you go! For other HTML websites including Squarespace, Joomla, custom and PHP etc, simply add the JavaScript library to your pages.
The modern design and styling fits with any site - and simple theming allows you to seamlessly blend the widgets with your website design. Advanced CSS styleing is possible for webmasters.
With all the data fields from Jefferson-Lewis Board of Realtors, with over 50 supported local MLS fields at your disposal, you can slice and dice the MLS data anyway you like to create any number of pages.
Everything you need is included with Ultimate IDX - from Property Display, Interactive Map search with polygon shape search, built in lead capture AND a comprehensive professional CRM - it's all integrated into a single solution!
---
IDX Map Display
Interactive IDX Map Search and display with polygon areas is a standard feature of Ultimate IDX.
Lead Management / CRM
UltimateIDX comes complete with the included Leads and Contacts CRM that is tightly integrated to your website and IDX widgets.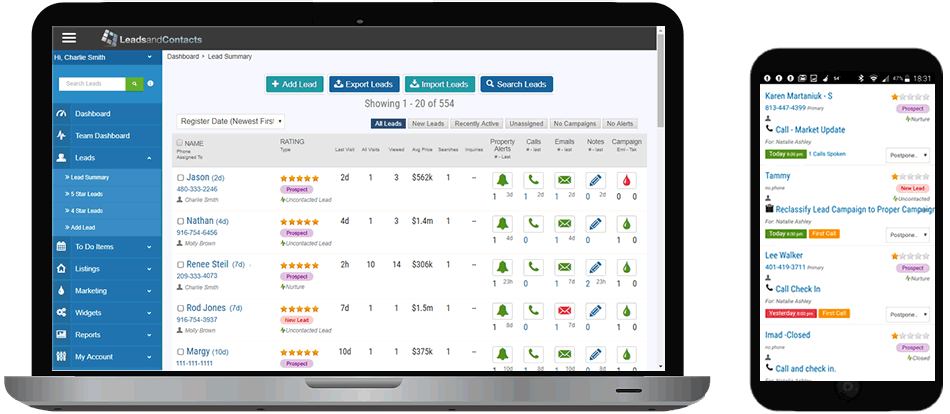 Realtor Associations and Boards for Jefferson Lewis
UltimateIDX is available as a IDX / CRM Plugin for your existing site, or we can help with complete done-for-you IDX Website that helps you focus on your target real estate market with Jefferson Lewis.